ASEE (American Society for Engineering Education) was founded in 1893 and remains the only organization that seeks to promote excellence in engineering education across the full spectrum of engineering fields.
Section History
The Southeastern Section of ASEE was formed in 1934. Delegates from the Southeastern U.S. attending the annual national meeting of the Society for the Promotion of Engineering Education (SPEE, later called ASEE) voted to hold a meeting at Georgia Tech to discuss engineering education problems facing engineering institutions in the Southeast. The initial meeting, held on November 9 – 10, 1934, was attended by 26 individuals from ten colleges and universities.
Geographic Region
The Southeastern Section extends from the Atlantic Ocean westward to the Mississippi River and from Virginia southward including Puerto Rico. The Southeastern Section has grown to more than 2000 members from Alabama, Florida, Georgia, Kentucky, Mississippi, North Carolina, Puerto Rico, South Carolina, Tennessee and Virginia. The Southeastern Section is part of ASEE Zone 2, which consists of the North Central Section, the Illinois Indiana Section, and the Southeastern Section.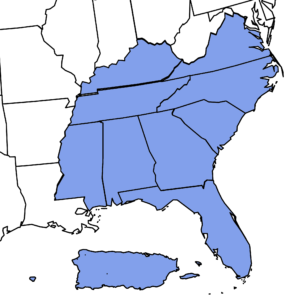 Membership
Membership consists primarily of faculty in engineering, engineering technology, computer science, and related programs. The strength of the section is built on attendance at the annual spring section conference and meeting, while the other key element to the section's success is the structure of section officers. The large number of new section officer positions available and the election process at the conference breakfast meetings encourage new attendees to be involved in the section.