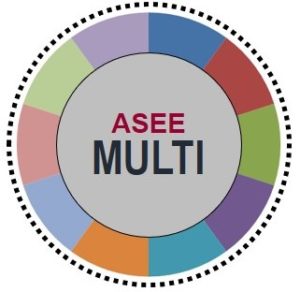 The Multidisciplinary Division invites all members to its Business Meeting at the ASEE Annual Conference. The 2019 Multidisciplinary Division Business Meeting minutes are posted here and past meeting minutes are available below.
ASEE Multidisciplinary Engineering Division Business Meeting Minutes
June 17, 2019
Meeting convened at 7:00 pm during appetizers and drinks at Jackson's Bistro and Sushi Bar, 601 S. Harbour Island Blvd, Tampa, FL.
1. Circulation of sign-in sheet and introductions: 22 Multi attendees
Gayle Ermer germer@calvin.edu; (Past division chair)
A.J. Hamlin ahamlin@mtu.edu; (Program chair)
Jean Kampe kampej@mtu.edu; (Division chair)
Cindy Barnicki barnickc@msoe.edu; (Secretary/treasurer)
Lynn Albers lynn.albers@hofstra.edu; (Newly elected Sec/Treas)
Dave Heidt daveh@northeast.edu
David C. Zietlow dzietlow@bradley.edu
Glen Archer gearcher@mtu.edu;
Mike Gennert michaelg@wpi.edu;
Diann Brei dibrei@umich.edu;
Brianna Benedict benedicb@purdue.edu
Stephanie Gillespie smgille2@asu.edu;
Jimmy Lee lee.jam@husky.neu.edu; (student)
Duncan Davis d.davis@northeastern.edu;
Amy Hortop abhortop@umich.edu;
Luciana Debs ldecresc@purdue.edu;
Jack Bringardner jack.bringardner@nyu.edu;
Victoria Bill Victoria.bill@nyu.edu;
David Ecker david.ecker@stonybrook.edu;
Julie Sonnenberg-Klein jsk@gatech.edu;
Elise Barrella barrelem@wfu.edu;
Melissa Morris mmorris@floridapoly.edu;
2. Welcome from the Division Chair, Jean Kampe
3. Business Meeting Minutes from June 26, 2018 were distributed and unanimously approved
4. Report on MULTI elections: Gayle Ermer
Election Committee Membership (Gayle Ermer as past division chair, Jean Kampe as division chair and Cindy Barnicki acting as at large member)
 Election process was initiated and nominations were requested for the position of Secretary/Treasurer
Three nominees were identified: Lynn Albers, Jaby Mohammed, Homero Murzi
Cindy Barnicki set up the voting using Google form, with a link sent to Multi membership by Jean Kampe with April 11, 2019 deadline
Election results were tabulated and confirmed by the committee
Gayle communicated the results to the candidates. Lynn Albers received the highest number of votes.
Jean announced the result of the election to the Multi membership via e-mail (4/20/2019)
5. Division Chair Report- Jean Kampe
ASEE annual Meeting Demographics
Business (128), social (44) and panel (94) sessions for a total of 266
297 Technical sessions, 37 Workshops, 1573 Papers, 57.6% published from abstracts
ASEE membership is 11,174 (as reported at ASEE in 2017)
Multidisciplinary Division membership is 1346 (reported on 6/5/2019).
Update on Division By-Laws
An Amendment is needed to the By-Laws to add procedure for selecting the division representative for the PIC best paper selection process. The By-Laws with the proposed section was passed out to the members and a motion to discuss was made and seconded. Some discussion about the potential reorganization of the PIC's and the need to have some flexibility if the Vice-
Chair/Program Chair had a paper under consideration for the award. The amendment with the suggested changes was approved by all present.
Next PIC chair (current PIC II chair is Peter Schmidt, whose term is expiring. Multi division has the opportunity to nominate a former division chair for this position. Eligible members were contacted and Chell Roberts (Univ of San Diego and Multi division chair; 2011-2013) has been selected as the nominee from Multi division.
The current PIC II chair forwards the nominee's to the ASEE Nominating Committee for selection of candidates to be voted on in Spring 2020
ASEE P-12 Representative Committee membership:
The P-12 Engineering Education Committee is forming the P-12 Representative Committee and encourages representation from all divisions in ASEE. Duties include: an on-line meeting in the Fall and Spring with an on-ground meeting at the annual ASEE conference. AJ as the incoming division chair will send out an e-mail to solicit interest in representing the Multi division on this committee.
Proposal to merge BASS and Operating Accounts:
Divisions were requested to create statement on the funding sources, uses of funds and target balance for the BASS account: A statement from the Multi division was created and will be distributed to the members via e-mail later in the summer. The ASEE board is considering merging the 2 accounts into one in which the division will still get $1 per member at the start of the fiscal year in October, but those funds will not be removed at the end of the fiscal year. If approved, the change would happen at the start of the next fiscal year in October 2019.
Proposal to reorganize PIC's:
The Professional Interest Council (PIC) organization is not in balance in terms of the number of divisions/constituent committees within each of the 5 PIC's. The organization of the PIC's has not been reviewed in a number of years and there have been some complaints about the perceived inequities in the selection of the best conference paper among other issues. Three proposed options to reorganize have been created and will be distributed to the division membership (by AJ later in the year) for comment and feedback. The options are identified by color; red, green and blue.
Future Directions:
The attendance at this year's social/business meeting is the highest in several years. The suggestion made in 2018 for the Multi division to be a lead in the area of "Mechatronics" and have 2-3 technical sessions at the 2020 annual conference was discussed and Michael Gennert will assist in making this happen.
Lively discussion occurred on different formats for sessions that were more interactive; similar to the session in the afternoon on Engineer 2040 [M341]. It was suggested that at least one interactive session be included in the program for 2020. A list of possible topics of interest was created and given to Cindy Barnicki as the program chair to assist in the call for papers.
6. Program Chair Report – AJ Hamlin
Summary of ASEE 2019 Multi Program
Number of submitted and transferred abstracts: 61 (56 accepted, 1 rejected, 2 withdrawn before review, 2 transferred out, 17 did not submit a
paper)
Number of submitted papers: 39 (1 rejected, 2 withdrawn, 1 transferred in after review)
Papers accepted and placed in sessions: 37 (14 approved on draft, 23 moved to rewrites, 1 rewrite not accepted) [last year 33, previous year 40]
53.43% published from abstracts submitted
Multidisciplinary program/sessions: 6 technical sessions sponsored solely by Multidisciplinary Engineering [ 7 last year; 9 previous year] with 37 papers 1 panel session [M341] sponsored solely by Multidisciplinary Engineering
Co-sponsored 2 technical sessions (W341 with first year programs and W441 with Liberal Education/Engineering division)
Co-sponsored Interdivisional Town Hall Meeting [M504B]
Co-sponsored Industry Day Session "Industry 4.0-Opportunity to Rethink and Retool" [T481]
Multi was a co-sponsor for two Distinguished Lectures "Social Disruptions of Emerging Technologies & Implications for Engineering Education" [W211], and "Alternative-Universe ASEE: An Engineering Education Conference Session from a World Where the Majority of Engineers are Deaf [W292]
2019 Multi Social and Business meeting [M741]
Best paper award presentation
The Best Multidisciplinary Division paper award of 2019 was presented to Gillespie, Huerta, Schoepf and Loughman "The Impact of Multidisciplinary
Teams on Sustainability Projects in EPICS". Dr. Stephanie M. Gillespie accepted the award at the Multi Social/Business meeting.
7. Financial Report – Cindy Barnicki
Sarah Lou, Senior Accountant is now the main contact with ASEE Headquarters regarding division accounting, replacing Jessalyn Vermillion, who left ASEE in
late 2018. Sarah has provided quarterly statements and has been accessible to answer questions.
THIS YEAR (6/26/2018-6/17/2019)
Account Type

BASS
Operating

Balance as of last meeting, 06/26/2018

$275.40
$1341.00

Operating Account Debits:

6/30/2018:  Session W211 Distinguished Lecture (1/7th of $550 honorarium and 1/7th of $125 conference registration fee)

7/6/2018:  Appetizers, for 2018 Division Social

7/6/2018: Beverages for 2018 Division Social 

7/6/2018:  Supplies for Best Paper Award(s) and Division mixer

-$96.44

-$59.15

-$140.42

-$54.30

BASS Revenues: (through 9/30/2018)

6/30/2018: Ticket sales (M741:  11 @ $10 advance, 0@ $20 $20 on site) to the 2018 social with $21.00 14% of $150 (AV and room) for co-sponsor of session W211 Distinguished Lecture

9/30/2018: ASEE Administrative Fee (30% of BASS revenue)

$89.00

-$26.70

Interest:  10/1/2017-09/30/2018

$.46

N/A

Ending fiscal year balance on 09/30/2018

$338.16

$990.69

Carry forward to new fiscal year on 10/01/2018

$338.16

$0.00

ASEE allocation at $1.00 per member on 10/01/2018

N/A

$1336.00

Starting fiscal year balance on 10/01/2018

$338.16

$1336.00

Interest: 10/1/2018-3/31/2019

$1.43

N/A

BASS account administrative fee (12/31/2018)

-$3.00

BASS Revenues: (10/1/2018 – 3/31/2019)

Participation in Research Project (10/22/2018)

Ticket Sales for 2019 Social (temporary)

$10.00

$30.00

Balance as of 06/17/2019
$376.59*
$1336.00
Notes:
All account balances are consistent with ASEE records as of 3/31/2019
LAST YEAR (6/26/2017-6/26/2018)
Account Type

BASS
Operating

Balance as of last meeting, 06/26/2017

184.27
$1295.00

Debits:

7/18/2017  Appetizers, entrees, and coffee for 2017 Business Meeting Dinner

7/18/2017 Beverages for 2017 Business Meeting Dinner

-$214.33

-$36.54

Revenues:

6/30/2017  Ticket sales (M741: $20 advance, $30 on site) to the 2017 dinner business meeting

9/30/2017  ASEE Administrative Fee (30% of BASS revenue)

$130.00

-$39.00

Interest:  10/1/2016-09/30/2017

$.11

N/A

Ending fiscal year balance on 09/30/2017

$275.38

$1044.13

Carry forward to new fiscal year on 10/01/2017

$275.38

$0.00

ASEE allocation at $1.00 per member on 10/01/2017

N/A

$1341.00

Starting fiscal year balance on 10/01/2017

$275.38

$1341.00

Interest: 10/1/2017-12/31/2017

$.02

N/A

Balance as of 06/26/2018
$275.40
$1341.00
Notes:
All account balances are consistent with ASEE records
8. Webmaster Report- Dennis Silage (not in attendance)
The website (https://sites.asee.org/multi/) is in full compliance with ASEE, Current materials are posted and members are encouraged to visit the site. Updates to the officers, minutes of the business meeting and winner of the Best Paper Award will need to be sent to the Webmaster after the Annual Conference for posting on the following sites:
Officers for 2019-2020   sites.asee.org/multi/officers/
Business Meeting           sites.asee.org/multi/business-meetings/
Best Paper Award          sites.asee.org/multi/best-paper-award/
9. Diversity, Equity and Inclusion Committee report: report submitted by Jean Bossart is attached at the end of the meeting minutes
10. PIC II Chair Report from Peter Schmidt, presented by Jean Kampe during the Division Chair report
Appendix:
Meeting Notes from ASEE Committee on Diversity, Equity & Inclusion (CDEI), June 15, 2019
ASEE Annual Conference, Tampa, Florida
Jean Bossart, MULTI Delegate to CDEI
1. Introductions
2019/2020 Leaders: Becky Bates – outgoing chair; Susan Walden – incoming chair: Liz Litzler, Rocio Chavela, Ray Philips (ASEE HQ Liaison)
Incoming standing members:
Liz Litzler, Vice Chair
Trina Fletcher, Member at large
Tasha Zepherin, Member at large
Raquel Tamez, SHPE (Diversity Org Rep)
Rochelle Williams, MIND Representative
Martin Gordon, Engineering Technology Council (ETC)
2. State of the Committee/CDEI Committee Overview
Vision: ASEE envisions widespread, inclusive, and equitable environments in engineering, academia, and industry that embrace individual differences and leverage diversity for a better engineered tomorrow.
Mission:
To increase visibility and discussion of diversity issues
To help develop inclusive and pervasive environments for all engineers to thrive
To facilitate and encourage use of translatable strategies that enable both bottom up and top down empowerment
The Chair emphasized that the challenge is to sustain the vision/mission year-round and extend it throughout ASEE, not just the CDEI – this will require representatives throughout ASEE.
Strategic Plan Goal 1
Increase visibility, improve baseline knowledge, empower members, and leverage events within ASEE and ASEE affiliates to increase diversity.
Engage the ASEE community to improve baseline knowledge of diversity issues
Empower ASEE members into actionable initiatives
Partner with Engineering Deans Council (EDC), Engineering Technology Council (ETC), Corporate Member Council (CMC), Engineering Research Council (ERC), divisions,
sections, zones, and other groups.
Strategic Plan Goal 2
Increase visibility of and perceived importance of diversity within all engineering and related communities
Be a proactive voice to influence policies and practices on a national and global scale
Develop partnerships that recognize and disseminate information and strategies to a larger audience
Engage the broader engineering community (academia, industry, government) to actively and steadily increase diversity
3. Standing Subcommittees and Highlights of Activities
Communication – Website transition to new site, 2 newsletters (Issues 10 & 11)
Conference Planning – Pavilion (collaborating with P12 committee & hosting giveaways), division mixer, Footsteps, pronoun stickers
Conference Programming – Distinguished lecture (Wednesday), M492 Action on Diversity, best diversity paper finalists, round table discussions, special sessions/workshops
Partnerships – No formal report but discussion on how to align, improve recruitment and retention of new hires. There has been success in hiring but retention is not always good.
Strategic Planning and Assessment – Draft annual report, gathered data from subcommittees, supported STEM Inclusion Study response
Policy and Letters – Response to STEM inclusion study, champion of diversity acknowledgement letters (a very positive response from a recipient who received a letter was shared at the meeting)
Professional Development – DEI 100 and DEI 200
4. Reporting
2018-2019 Board Reporting
Share information with your division, committees, councils, etc.
Report highlights, subcommittee activities
Executive committee recommendations to the Board for revising ASEE data collection regarding demographic information, both for members and College Profiles
2019-2020 Continuing the Work
Development of our members – professional development sessions
Improving access to resources
Building partnerships
Renewing the Strategic Plan – current strategic plan expires next year, committee to develop new strategic in organization stage
Improve access to resources
5. Moving Forward
Website development: Providing resources
Professional development for our team
Conference programming
National regional conferences
Connect with section/zone chairs to expand DEI programming
Expanding partnerships within ASEE
Across professional societies: For example, AICHE has just received a grant to develop "Bias Training" – need to explore partnership opportunities that would allow ASEE access to the new training program and extend it into our organization.
Past Multidisciplinary Division Business Meetings
MECC minutes 2003
MECC Minutes 2004
MULTI minutes 2005
MULTI minutes 2006
MULTI minutes 2007
MULTI minutes 2008
MULTI minutes 2009
MULTI minutes 2010
MULTI minutes 2011
MULTI minutes 2012
MULTI minutes 2013
MULTI minutes 2014
MULTI minutes 2015
MULTI-minutes 2016
MULTI-minutes 2017
MULTI-minutes 2018