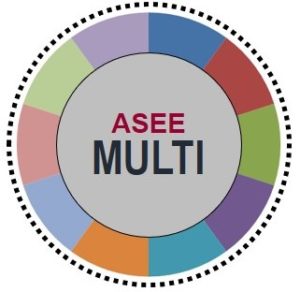 The Multidisciplinary Division invites all members to its Business Meeting at the ASEE Annual Conference. The 2019 Multidisciplinary Division Business Meeting minutes are posted here and past meeting minutes are available below.
ASEE Multidisciplinary Engineering Division Business Meeting Minutes
June 27, 2022
Meeting convened at 7:00 p.m. at the Minneapolis Sculpture Garden picnic area
1.    Welcome from the Division Chair and Attendance
Cindy Barnicki                barnickc@msoe.edu;                          (Division Chair)
Lynn Albers                     lynn.albers@hofstra.edu;                    (Program Chair)
Duncan Davis                  d.davis@northeastern.edu;     (Secretary/Treasurer) + K-12 Rep
Victoria Bill                     victoria.bill@nyu.edu;                       (CDEI Delegate)
Ruby Mehrubeoglu         ruby.mehrubeoglu@tamucc.edu;       (Town Hall Rep)
Attendees:
Eric Rice                                                                          ericmrice@gmail.com
Trevor Mackeset                                                            tmackes1@jhu.edu
Bill Smedick                                                                   smedick@jhu.edu
Shuvra Das                                                                     dass@udmercy.edu
Yuchen Huang                                                               yuchen@pdx.edu
Nathan Kathir                                                                Nkathir@gmu.edu
Lucas Faria de sa Tucker                                             fariadesatucker.l@northeastern.edu
Cory Budischak                                                             coryb@temple.edu
Ruth Ochia                                                                     ruth.ochia@temple.edu
Matt Aldeman                                                                maldema@ilstu.edu
Stephen Wilkerson                                                        swilkerson@ycp.edu
Scott Kiefer                                                                     skiefer@ycp.edu
Cristian Vargas Ordonex                                              cvargaso@purdue.edu
Ruben Dario Lopez                                                        rlopezpa@purdue.edu
Ciana Winston                                                                winston.c@northeastern.edu
Jada Wong                                                                       wong.jad@northeastern.edu
Susan Tripathy                                                                susan_tripathy@uml.edu
Trina Kershaw                                                                 tkershaw@umassd.edu
Lizzie Meier                                                                     el.meier@ufl.edu
Edward Latorre                                                              elatorre@ufl.edu
Brian Faulkner                                                               faulkner@msoe.edu
2.    PIC V Chair Report – Maureen Barcic, University of Pittsburgh (Retired)
1365 Unique Talks, 3119 Unique Co-Authors, and 3022 Attendees
ASEE headquarters insists that all visitors be vaccinated for the safety of their employees.
5/9 proposals for Special Projects came from our PIC
Issues with Slayte – she is going to discuss with the CEO of Slayte at 8 pm tonight
JEE Editor open
VP of Scholarship open
PRISM leadership changing
Impexium new system coming through next year
30% ASEE cut is gone this year
2023 Conference: in person in Baltimore
3.    Circulation of business meeting minutes from 2021, and approval decision
Business Meeting Minutes from 2021 were presented by Lynn Albers. A motion was made by Cindy Barnicki to accept the minutes as written and seconded by Duncan Davis. The motion passed unanimously.
4.    Division officers
Current officers (June 2021 – June 2023)

Immediate Past Division Chair: AJ Hamlin, Michigan Technological University
Division Chair: Cynthia Barnicki, Milwaukee School of Engineering
Vice Chair/Program Chair: Lynn Albers, Hofstra University
Secretary/Treasurer:  Duncan Davis, Northeastern University

New Positions

Webmaster: Edward Latorre, University of Florida
Executive Director at-Large: Yuchen Huang, Portland State University
P12 Rep: Jim Olson, Rensselaer Polytechnic Institute
CDEI Rep: Cristian Vargas Ordonez, Purdue University 
5.    Division Chair Report – Cynthia Barnicki
Membership in the Multidisciplinary (MULTI) Division – 1236
Open MULTI positions voted upon
6.    Program Chair report – Lynn Albers
Division program demographics
Distinguished Lecture W17644:\

"Renewable Energy Education, Training and Outreach in the Midwest" by Nick Hylla, Energy Conversion Conservation and Nuclear Division (lead) with the Ocean and Marine Division, and Instrumentation Division

MULTI received 64 abstracts, 35 papers, and published 34 papers.
2022 MULTI Best Paper

"Industry Assessment of Multidisciplinary Teamwork Skills" by Dr. Illysa Izenberg, Johns Hopkins University; Dr. Steven Marra, Johns Hopkins University; Trevor MacKesey, Johns Hopkins University; Leslie Kendrick, Johns Hopkins University; Jenny Bernstein, Johns Hopkins University.

2022 MULTI Best Diversity Paper

"Experiences of Students supported by an NSF S-STEM Grant in a Robotics and Mechatronic Systems Engineering program" by Dr. Shuvra Das, University of Detroit Mercy.
7.    Finance Report – Duncan Davis
BASS Account $3030.84 rolled forward to FY2021
ASEE Membership Allocation funds of $1236 applied to FY2022
BASS Account balance of $4268.11 as of Q4 FY2022
8.     MULTI Representative/Delegate Committee Reports
a.     Commission on  Diversity, Equity, and Inclusion – Victoria Bill, NYU Tandon School of Engineering
b.    P-12 Engineering Education Committee – Duncan Davis, Northeastern University
Activities of the P-12 Engineering Education Committee are listed with corresponding links.
ASEE Engineering Teacher Prof Dev Endorsement (https://etpde.asee.org/)
ly/PCEEMAP – map of many P12 opportunities divided by state
ly/PCEEMAPFORM – add an opportunity that you know about
P12 Spotlight (https://sites.asee.org/p-12committee/category/news/p12-monthly-spotlights/)
Summer Camps (https://sites.asee.org/p-12committee/2020/06/05/asee-p12-summer-camps/)
2021 Signups – (https://drive.google.com/file/d/1SQFH3EJ7tJpEl70vcmrp0FN0l2I4ggOZ/view)
P12 Speakers Bureau – Signups: (https://forms.gle/e1eTSnrD4eichmPL8)
Engineering for Us All (https://e4usa.org/)
Framework for P12 Engineering Learning (https://p12framework.asee.org/)
P12 Engineering Workshop (happens in June)
c.     Interdivisional TownHall – Ruby Mehrubeoglu, Texas A&M University – Corpus Christi
The Town Hall video is at minute 21: https://www.youtube.com/watch?v=r9-P0lM32T8
Topic 1: The Engineers of the 2030s versus the Engineers of 2020s.
Topic 2: Engineering a More Just World
Topic 3: Mentorship, Instruction, and Coaching in Engineering Education and Industry
Topic 4: Preparing Stewards of the Profession
Prompt 1: Based on what you heard about new knowledge and skills students will need to become tomorrow's engineer, what new areas of faculty professional development will be most needed in the future?
Prompt 2: What benefits would an ASEE initiative that provides national recognition for faculty professional development have for engineering and engineering technology education broadly? How would recognition of such professional development benefit you personally in your current role?
Prompt 3: What are the potential barriers at your institution that might affect offering professional development opportunities, or recognizing instructors and faculty that invest their time in pursuing such opportunities? What would be needed to overcome these barriers?

ABET Activities Committee (AAC): Gayle Ermer, Calvin University

Come join ABET as a reviewer
Learn about the ABET process
ASEE assigns reviewers to general engineering programs
This committee coordinates with ABET for general engineering programs
9.    Adjournment 8:30 p.m. CST
Previous Multidisciplinary Division Business Meetings
MULTI-minutes 2021
MULTI-minutes 2020
MULTI-minutes 2019
MULTI-minutes 2018
MULTI-minutes 2017
MULTI-minutes 2016
MULTI minutes 2015
MULTI minutes 2014
MULTI minutes 2013
MULTI minutes 2012
MULTI minutes 2011
MULTI minutes 2010
MULTI minutes 2009
MULTI minutes 2008
MULTI minutes 2007
MULTI minutes 2006
MULTI minutes 2005
MECC Minutes 2004
MECC minutes 2003