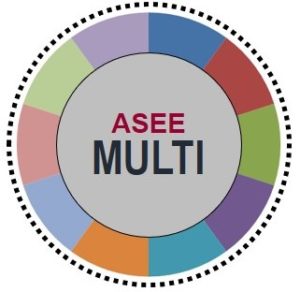 The Multidisciplinary Division invites all members to its Business Meeting at the ASEE Annual Conference. The 2019 Multidisciplinary Division Business Meeting minutes are posted here and past meeting minutes are available below.
ASEE Multidisciplinary Engineering Division Business Meeting Minutes
June 26, 2020
Meeting convened at 3:00 p.m. at asee20.pathable.co virtual platform
1. Welcome from the Division Chair, A.J. Hamlin  and Attendance:  22 MULTI attendees
A.J. Hamlin                              ahamlin@mtu.edu             (Division Chair)
Jean Kampe                            kampej@mtu.edu              (Past Division Chair)
Cindy Barnicki                         barnickc@msoe.edu          (Program Chair)
Lynn Albers                             lynn.albers@hofstra.edu   (Secretary/Treasurer)
Duncan Davis                         d.davis@northeastern.edu (K-12 Representative
Victoria Bill                              victoria.bill@nyu.edu         (Incoming CDEI Delegate)
Jean Bossart                           jean.bossart@ufl.edu        (Outgoing CDEI Delegate)
Alyson Eggleston                    aegglest@citadel.edu
Anderson D. Prewitt                anderson@prewittsolutions.com
Cedrick Remi
Mark Novak
Chris
Olanrewaju Olaogun
Cecelia Wigal                         cecelia-wigal@utc.edu;
Dennis Silage                         silage@temple.edu;
Edward Latorre                       elatorre@ufl.edu;
Jack Bringardner                    jack.bringardner@nyu.edu;
Julie Sonnenberg-Klein          jsk@gatech.edu;
Pauline Melgoza
Mike Gennert                          michaelg@wpi.edu;
Rebecca Reck                        asee@rebeccaee.com;
Richard Goldberg                    r.goldberg@unc.edu;
Rungun Nathan                      rungun.nathan@psu.edu;
2. Business Meeting Minutes from June 17, 2019 were presented by Cindy Barnicki. A motion was made by Duncan Davis to accept the minutes as written. The motion was seconded by Dennis Silage and passed unanimously.
3. Division officers and representatives
Current officers (July 2019- June 2021)
Immediate Past Division Chair:  Jean Kampe, Michigan Technological University
Division Chair:  AJ Hamlin, Michigan Technological University
Vice Chair/Program Chair:  Cynthia Barnicki, Milwaukee School of Engineering
Secretary/Treasurer:  Lynn Albers, Hofstra University
Webmaster:  Dennis Silage, Temple University
MULTI delegate/representative
Commission on Diversity, Equity, and Inclusion:
2018-2020: Jean Bossart, University of Florida
2020-2022: Victoria Bill, NYU Tandon School of Engineering
P-12 Representative Committee:
Duncan Davis, Northeastern University
Elections for Secretary/Treasurer to be held in Spring 2021
4.       PIC II Chair Report – Peter Schmidt (University of Evansville) schedule permitting
a.       PIC Reorganization
i.      RED scenario was the grouping that PICs felt would encourage collaboration between divisions in the same PIC.
ii.      Multidisciplinary Division has moved from PIC II to PIC V.
b.       ASEE Membership is declining so all are encouraged to speak with their College Deans to encourage them to renew their Institution membership.
c.       Financial Status.
$733k shortfall due to virtual conference
ASEE Revenue comes from the individual dues, institutional dues, and conference registration fees.
ASEE applied to the Payroll Protection Program (PPP) and received a $1.1 million loan. They are hoping to convert this to a grant from a loan.
5.       Division Chair Report – AJ Hamlin
MULTI Bylaws – approved by division June 2019, to be approved by ASEE Board
Membership in the Multidisciplinary Division: 1365
6.       Program Chair report – Cynthia Barnicki
Division program demographics:
8 Technical Sessions, 1 Division Social, 1 Business Meeting, cosponsor on panel with systems engineering, cosponsor on distinguished lecture
68 abstracts submitted which is up from 61 in 2019. 62 abstracts accepted
46 draft papers; 3 rejected, 4 rewrites, 23 approved on draft
34 final papers
2020 MULTI best paper award presentation
"Practical Skills for Students in Mechatronics and Robotics Education"
7.       Treasurer Report – Lynn Albers
a.       Operating Account was dissolved on 10/01/2019
b.       BASS Account $528.39 rolled forward to FY2020
c.       ASEE Membership Allocation funds of $1244 applied to FY2020
d.       BASS Account balance of $1778.98 as of Q2 FY2020 (03/31/2020)
8.       Webmaster Report – Founding webmaster Dennis Silage
9.       MULTI Representative/Delegate Committee Reports
Commission on Diversity, Equity, and Inclusion – Jean Bossart
Designation changed from Committee to Commission
Summer Workshops
P-12 Engineering Education Committee – Duncan Davis
Classroom Grants for Engineering Education
Engineering Teacher Professional Development Endorsement
ASEE Virtual Summer Camps
10.   Other Business
Future Directions:
Speaker from local industry at the social/dinner event.
Guest presentations by Zoom to classes in the future
Investigate why people join multi? Is it because they want to get started, are already doing, or want to share? A survey of members might give us a good place to start.
Looking for directions for panels and/or collaboration: Gamification, Makerspaces
Social Committee: Plan ASEE Social.
I think that this is a 2nd or 3rd division for many, who have a primary division that is closer to their disciplinary department. How can we leverage that?
Connections to Makerspace is a great idea! Maybe a Makerspace theme to the social?
A speaker or activity that emphasizes how the MULTI Division can benefit disciplinary divisions.
11.   Adjournment – 4:00 PM, June 26, 2020
Past Multidisciplinary Division Business Meetings
MECC minutes 2003
MECC Minutes 2004
MULTI minutes 2005
MULTI minutes 2006
MULTI minutes 2007
MULTI minutes 2008
MULTI minutes 2009
MULTI minutes 2010
MULTI minutes 2011
MULTI minutes 2012
MULTI minutes 2013
MULTI minutes 2014
MULTI minutes 2015
MULTI-minutes 2016
MULTI-minutes 2017
MULTI-minutes 2018
MULTI-minutes 2019