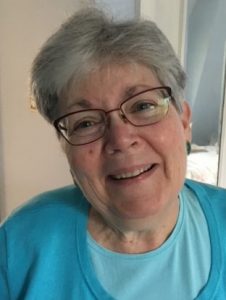 Name: Mary Reilly McCall
Institution: University of Detroit Mercy
Position: Adjunct instructor in Engineering and English – Technical Writing instructor in Mechanical Engineering
What do you do for fun? Read (mysteries, detective stories, historical fiction, current events). My favorite series is the Aubrey/Maturin books by Patrick O'Brian. And I've been putting together a specialized presentation for a relative who is homeschooling her children. To date, we've covered poetry (for Poetry Week in 2020 and then The Seven Wonders of the Ancient World – because who doesn't like old-time monuments?). Right now I am working on a co-presentation on Modern China with my daughter and it's been a lot of fun.
What is your favorite thing about working in engineering? My mechanical engineering colleagues are the best: kind, helpful and smart. They made me feel very welcome and valued despite my lack of engineering credentials.
Something really cool happening in engineering at your school? I've been working with my colleagues in mechanical engineering to develop the Embedded Technical Writing program. It starts with first year students in their very first semester and continues through their third year.
So far we've embedded into five classes, so there is sustained exposure to technical writing concepts and projects. We have expanded to include another technical writing instructor to cover the course load which underlines the commitment this department has to the program. We're getting ready to formally assess the impact on students and, to some extent, their employers (via co-op feedback).
What is the most challenging part of your job? Keeping up is an issue. I typically teach four writing classes each semester, which means lots of class prep, emails and papers to read. The pandemic added much more follow-up, grace periods and repeated communication with students, something I'm sure most of you have experienced. I'm looking at this as a learning opportunity in human interaction and use of technology.
Project or achievement in your current position that you are most proud of? When I taught Technical Writing in the past, I knew my students for 15 weeks. Now I greet them as first years and see them through graduation four years later. It's so revealing and rewarding to watch them develop over the course of their college life.