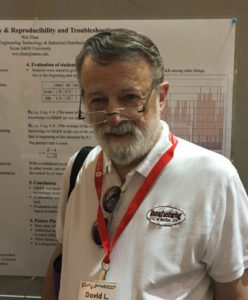 The David Wells Service Award is given annually in honor of Dr. David L. Wells (North Dakota State University), a founding member of the Manufacturing Division who remained an active contributor throughout his lifetime.
David Wells was an energetic advocate for inspiring students in innovative entrepreneurial endeavors.  As a proponent of Lean Manufacturing and an ABET Evaluator for manufacturing programs, he consistently promoted a high bar for manufacturing education.
David championed quality and professionalism in Division endeavors, often reminding the Division of historical successes as a benchmark toward continuing quality. He carried out manufacturing trivia contests at Division banquets and is remembered for his love of honoring worthy service with formal proclamations of commendation.  It is fitting that the Manufacturing Division honors him by continuing in that tradition by this annual Service Award.
Recipients of the David Wells Service Award since its 2017 inception:
2022 – Dr. Tzu-Liang (Bill) Tseng, University of Texas at El Paso
2021 – Dr. Irina Husanu, Drexel University
2020 – Julia L. Morse, Kansas State University Aerospace and Technology Campus
2019 – Dr. Yalcin Ertekin, Drexel University
2018 – Dr. Richard Y. Chiou, Drexel University
2018 – Dr. Ismail Fidan, Tennessee Technological University
2017 – Dr. Hugh Jack, Western Carolina University