The P12 Committee eagerly supports the nomination of individuals and organizations for many ASEE Awards.
In 2019, we are delighted to announce that Dr. Jenna Carpenter, Founding Dean of the Campbell University School of Engineering, has received the Sharon B. Keillor Award!  Jenna has been a long-time member of the PCEE division and does tremendous work in this space.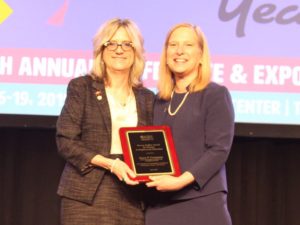 Also, the Purdue University's INSPIRE program received the ASEE President's Award for its annual Engineering Gift Guide.  This guide contains reviews and information about books, toys, and games intended to engage kids ages 3-18 in engineering thinking and design.